HHIS-808 SILICONE SEALANT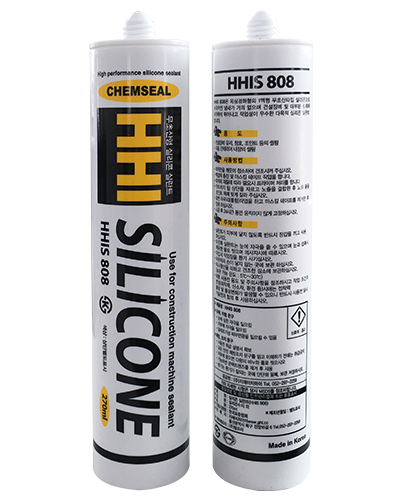 Packing

- 270ml*25EA/Box

Usage precautions.

- Before using the product, please cut off the nozzle properly.
- Clean the surface of the adherend thoroughly and remove any contaminated material or oil.
- After the installation, please use the silicone Hera tool to smooth the surface.
- Refer to Material Safety Data Sheet (MSDS) before use.
CS-200 Series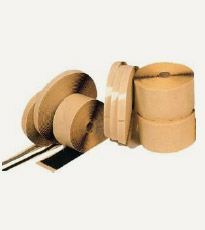 Feature

CS-200 SERIES is a versatile sealing agent used for waterproof, soundproof, dust proof, insulation, bonding and filling. It is a high-performance sealant and compound that has no shrinkage and metal corrosion, maintains permanent elasticity and adhesion, and is excellent in water resistance, heat resistance and cold resistance as an elastic material. Various specifications on tape and putty are convenient.

Uses

Sealing on roof construction of prefabricated buildings, Waterproofing and filling of volt, sealing of piping lines, PE cable sheath connection, sealing joint part of EPDM SHEET(waterproof sheet), temporary fixing of window frames and glass etc.

Color

White, Gray, Black

Packing

Tape>10㎜(T)×10㎜(T)×4M (Standard), 10㎜(T)×10㎜(T)×4M/20ea Box
Putty> 4Kg, 20Kg/Steel Can (It is an order product.)
PERFECT SEAL CS-222 (SILICONE SEALANT)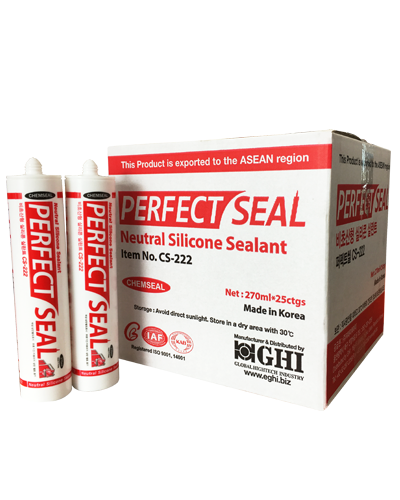 Feature

PERFECT SEAL CS-222 is a neutral cure type multi-purpose silicone sealant that has excellent adhesion to most materials.

Uses

Glass Glazing, window frames, concrete, etc.
Do not use for pair-seal glass, composite panel, aquarium, full water immersion area. Please ask us for other uncertain materials

How to use

- Surface must be claen.
- Apply back-up materials if necessary and use masking tape.
- Use primer if necessary.
- Cut a tip of catridge and equip nozzle with progerly cut.
- Install sealant to depth, make sure sealant is in good contact with joint surpases.
- Remove masking tape after tooling.

Stroage

Store in a dry place 5℃~30℃

Color

White, Clear, Gray, Black, Brown

Packing

270㎖x25EA BOX
CS-290NF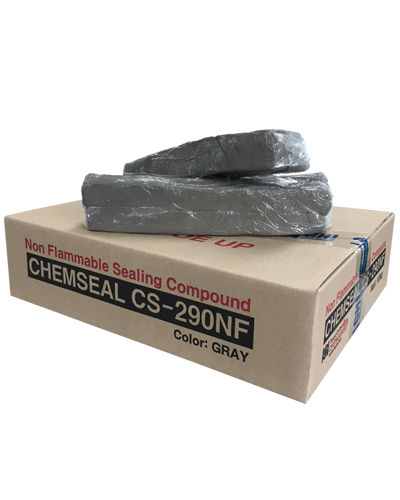 Feature

CS-290NF is a non-flammable sealing compound such as flame retardant putty. It is easy to work because it is excellent in adhesive property, waterproof property and stretchability. It is not hardened when stored for a long time and has excellent heat resistance, so it is used for wire disconnection and disaster prevention. It is chemically inert, does not generate toxic gas, and has excellent chemical resistance and durability. It is non-curing type and has excellent long-term preservability. If necessary, it can be easily disassembled after charging and can be used regardless of the season.

Uses

Used for sealing, filling, and bonding of conduits in automobiles, railway vehicles, ships, telecommunication equipment, and electrical equipment. It is also widely used for construction.

packing

(250g×2ea) ×20ea/Box (10kg) (Other orders can also be packed.)
CC-300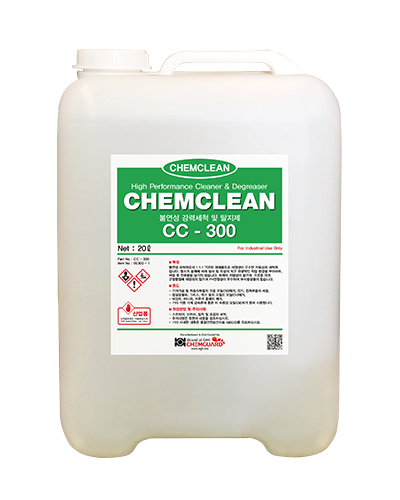 Feature

CC-300 is an alternative to 1.1.1 TCE as a non-flammable cleaner and a low-toxicity cleaner with excellent cleaning properties. Compared to chlorinated solvents, it has less odor and toxicity, provides a hygienic working environment and does not leave residues after washing. There is no danger of fire, and it is not applicable to ozone layer destruction regulation material, so PH stability is excellent and there is no corrosion rate.

Uses

- Automobile parts processing and various oil removal
- Removal of high viscous oils such as electric and electronic parts, synthetic lubricating oil, grease and wax
- Removal of paints, varnishes and petroleum solvents
- Removal of non-water-soluble oil *form* other machine metals

Packing

20ℓ(22kg) Pail, 200ℓ(220kg) Drum
CC-302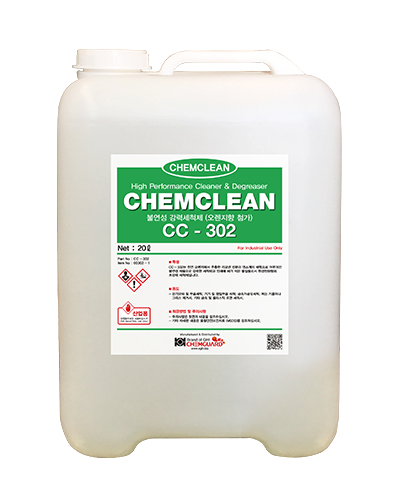 Feature

CC-302 is a non-flammable product consisting of a combination of chlorine and limonene extracted *form* natural oranges. It is environment-friendly ultra-strong washing with few harmful substances in human body.

Uses

Cleaning of electric motors and parts, cleaning of equipment and precision parts, cleaning of metal working fluids, removal of grease, washing of other metal and plastic surfaces.

Packing

20ℓ(22kg) Pail, 200ℓ(220kg) / Drum
PERFECT CLEANER CC-303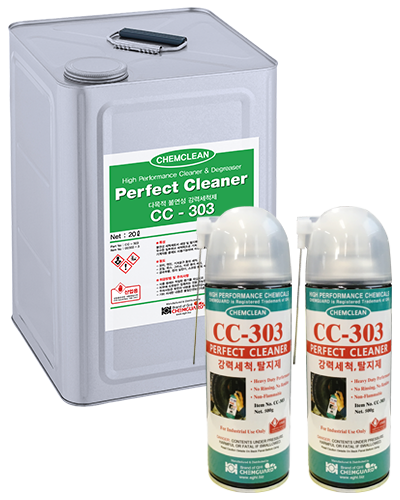 Feature

CC-303 is a non-flammable cleaner with excellent cleaning and degreasing power, without residues or stains. There is no need to disassemble the machine and parts with excellent penetration and cleaning power. It is low toxic and can be used during machine operation and does not contain petroleum solvent.

Uses

Cleaning parts of various machine products such as oil, grease, processing oil, dust etc. Cleaning parts of motors, generators, motors, engines. Cleaning and degreasing of metal parts and equipment. Cleaning and degreasing of crank cases, brake pads, cylinders, springs, etc.

Packing

500gr Aerosol×20ea/Box, 20ℓ Pail, 200ℓ Drum
SUPER CLEAN CC-315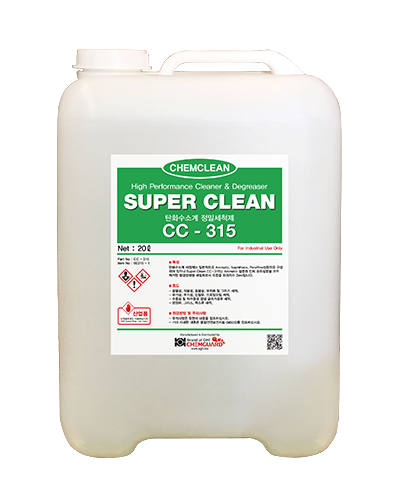 Feature

Generally, hydrocarbon cleaning agents consist of Aromatic, Naphthene and Paraffin components, but CC-315 is environmentally friendly detergent that removes both Aromatic and human toxic components. The ozone layer destruction index of this product is Zero.

Uses

Mineral, vegetable, animal, oil and grease cleaning.
- Organic, Inorganic and Drawing Oil Cleaning.
Water-soluble and non-water-soluble synthetic metal processing oil cleaning.
- Antirust oil, grease, wax cleaning

Packing

20ℓ/Pail, 200ℓ/Drum
ELECTRO CONTACT CLEANER CC-333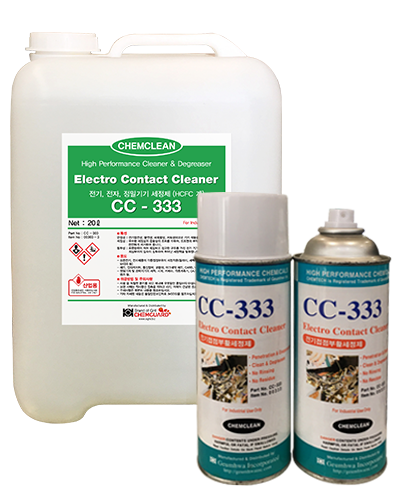 Feature

CC-333 is nonflammable and can be used to operate electrical equipment with good electrical insulation. Since 100% solvent evaporates, there is no residue, so do not have to worry about the corrosion of the washing area. Almost safe on all surfaces. Quickly removes foreign matter and contact point defects that cause contact point oil and eliminates conduction defects. It is also safe, odorless and non-toxic.

Uses

PCB cleaning
Cleaning connectors, switches and OA equipment
Used safely on telecommunication equipment, rubber, paint, plastic, metal, textile, glass surface.

Packing

500g Aerosol×20ea/Box, 20ℓ/Steel Can
SUS CLEAN CC-320 & 330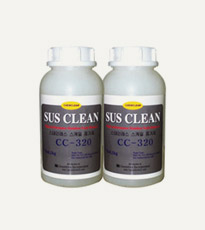 Feature

CC-320 is easy to work with cream-type Paste type. Even if it is applied to the vertical surface, it becomes passive state due to excellent adhesion and clean transfer processing. When special surfactant is added, it is diluted with water and applied in kg/2~4㎡ unit.

CC-330 is a liquid that has excellent dirt and scale cleaning ability and minimizes metal corrosion. Removes the opacity of the surface and polishes it. This product is suitable for processing products with an emphasis on appearance processing.

Uses

Scale removal of all stainless steel, Scale removal of heat treatment site of plant, Equipment and machinery parts, Tank, Reactor, Refrigerator, Shelf, etc.

Packing

1kg pe can×10ea/Box, 4ℓ(5kg)/pe Can, 18ℓ(20kg)/pe Can
CARBON REMOVER & CLEANER CC-337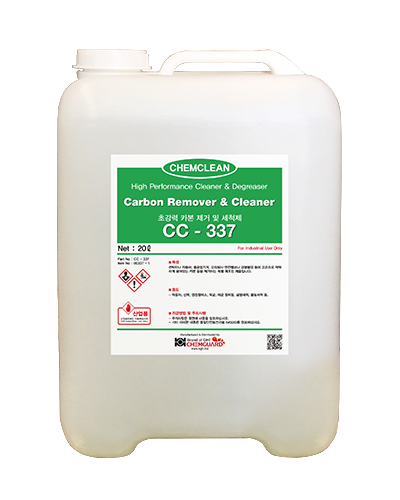 Feature

CC-337 is a specially manufactured product that removes carbon, which is stiff and hard at high temperature, such as ship, automobile, heavy industrial machinery, glass, company, engine valve and mold molding.

Uses

Cleaning for automobile, ship, engine garage. Cleaning for Army, Navy maintenance window, Mold cleaning etc.

Packing

20ℓ pe/Can
PAINT REMOVER & CLEANER CC-339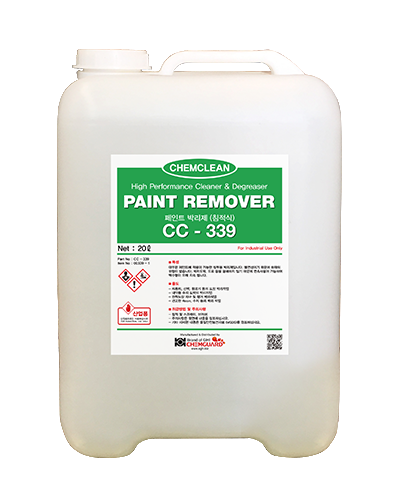 Feature

CC-339 is a super strength release agent containing chlorine-based organic solvent, penetrating additive, evaporation retardant, etc. It is a super strong penetration remover that can peel hard coat, baked coat and electro painting's hanger.

Uses

Removal of coating materials for automobiles, ships and aircraft, peeling of chemical film, removal of electrostatic paint jig and hanger, peeling of solid resin and resin.

Packing

20kg/Pe Can, 100kg/Pe Drum
CC-340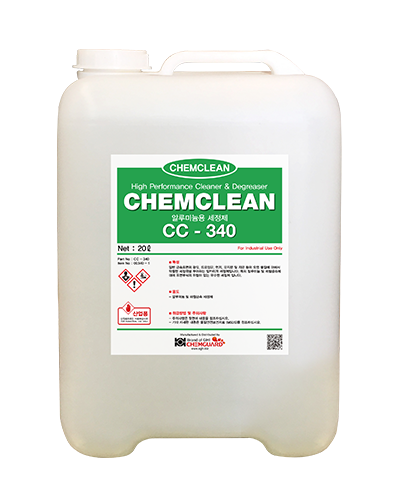 Feature

CC-340 is an alkaline detergent that provides excellent cleaning power for contaminants such as mineral oil, drawing oil, dust, grease, and fingerprints on common metal surfaces. It is an excellent detergent for aluminum and nonferrous metals that does not cause surface corrosion.

Uses

Aluminum and nonferrous metal cleaner.

Packing

20kg/pe Can, 100kg, 200kg/Drum
MICRO CLEAN CC-363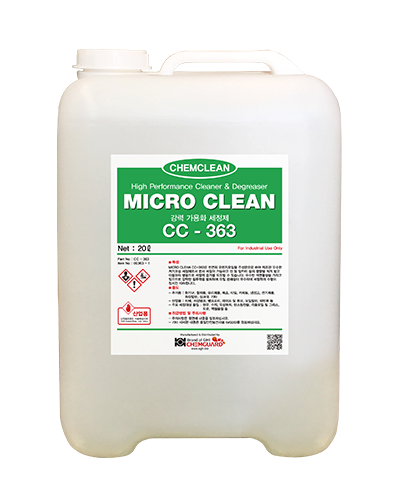 Feature

CC-363 is a low-foaming cleaning agent based on natural orange oil and has excellent cleaning power. It is possible to spray cleaning, less influence of acid and alkali, and can be used in combination with them to increase the cleaning power. As it has excellent surfactant, it shows strong penetration. The excellent oil decomposition ability makes the life of cleaning power longer.

Uses

[Residential] Ventilator, iron product, glass product, bathtub, tile, carpet, refrigerator,
electric appliance, fancy plywood, sink etc.
[Industrial] Body, storage tanks, tank lorries, pipes and tubes, oil filters, turbines
[Major material to be cleaned] Crude oil, resin, oil magic ink, paints, carbon deposits, various oils and greases, bituminous materials

Packing

20kg,100kg pe/can
ANYCLEAN CC-366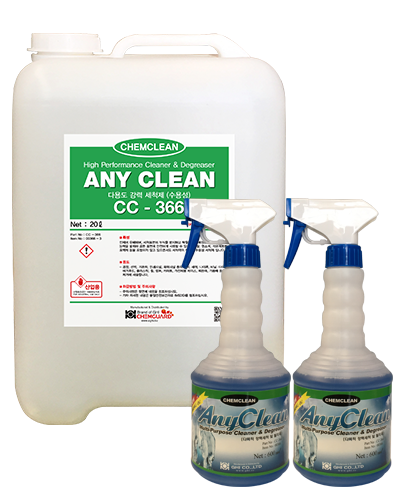 Feature

CC-366 is harmless to the human body, prevents corrosion of the cleaning surface, has excellent biodegradability, strong cleaning power and can be safely used on all surfaces. It is a water-soluble detergent with excellent cleaning power even when it is free of butyl, chlorine, petroleum solvent or bleach.

Uses

Degreasing and cleaning of factories, ships, locomotives, printing facilities, chemical facilities. Stain removal of Nylon, vinyl, plastic, exhaust hood, tire wheel, carpet, bumper, Appliance case etc.

Packing

600㎖ spray×15ea/box, 20ℓ pe/can
FLOOR CLEANER CC-370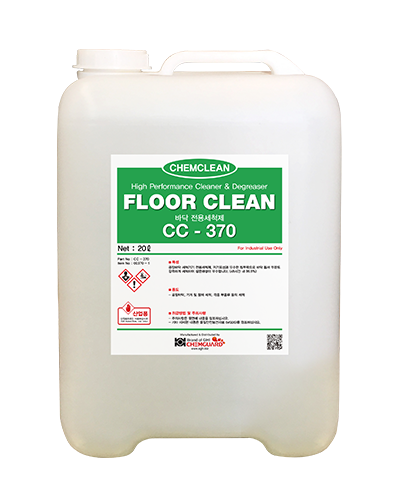 Feature

CC-370 is a cleaner for factory floor cleaning equipment. It is also excellent in biodegradability because it cleans the bottom crevice well with low foaming and excellent penetration. (99.9% within 48 hours)

Uses

Cleaning of factory floor, machine and equipment cleaning, various parts, etc.

Packing

20ℓ pe/can

TAPLUS SPRAY CL-400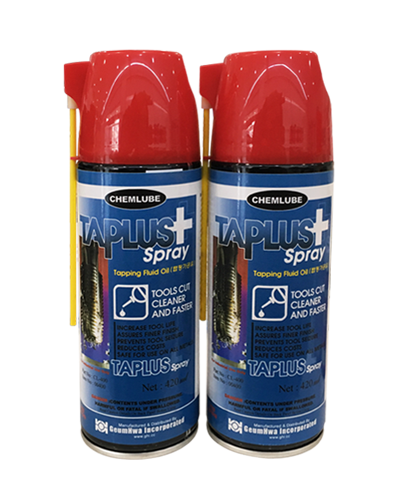 Feature

CL-400 is a super-precision cutting oil that is used for cooling, lubricating, cleaning, rust prevention and anti-corrosive effect. It is a convenient product of Aerososl Type. It forms a high-strength film with excellent adhesion force to extend tool life and maximize efficiency of sophisticated work processes. It has excellent noise canceling effect and is applied in various industrial fields such as precision machinery, mold, automobile, and ship.

Uses

Used for tapping, drilling, reaming, threading, turning, milling, broaching, etc. Spray type is easy to use and applicable to all metals.

Packing

420㎖ Aerosol×20ea/Box
TAPLUS CL-401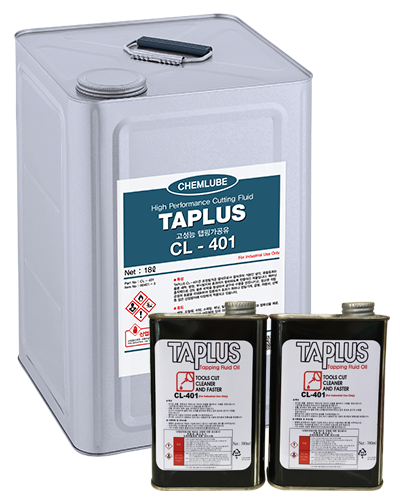 Feature

CL-401 is a super-precision cutting oil that is used for cooling, lubrication, cleaning, anti-rust and anti-corrosion effect. It forms a high-strength film with excellent adhesion force to extend tool life and maximize efficiency of sophisticated work processes. It has excellent noise canceling effect and is applied in various industrial fields such as precision machinery, mold, automobile, and ship.

Uses

Used for tapping, drilling, reaming, threading, turning, milling, broaching, etc. Minute-use straw is built-in for overuse and convenience of use and accuracy.

Packing

473㎖ steel can×10ea/Box, 18㎖ steel can
PERFECT LUBE CL-403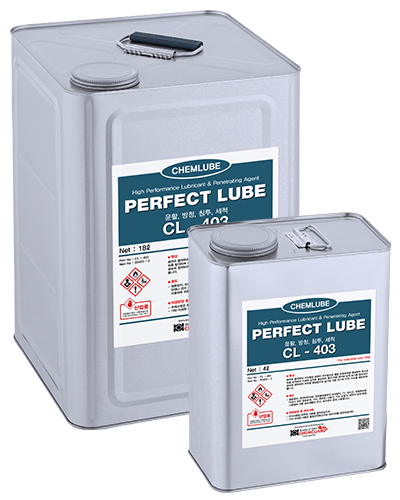 Feature

CL-403 has excellent adsorption power and transparency to form a thin protective film to prevent rust and corrosion. It is made of fine particles and pushes moisture easily due to the difference of specific gravity of water and forms a film by adhering to metal to prevent electric leakage due to moisture.

Uses

Corrosion prevention of ignition devices, battery terminals and cable contacts Maintenance and repair of various metal products such as TV, audio, contact point of antenna wire, various bearings, starvation, air conditioner, electric fan, various controllers, internal motors.

Packing

4ℓ, 18ℓ/Steel Can
LUBTEC CL-404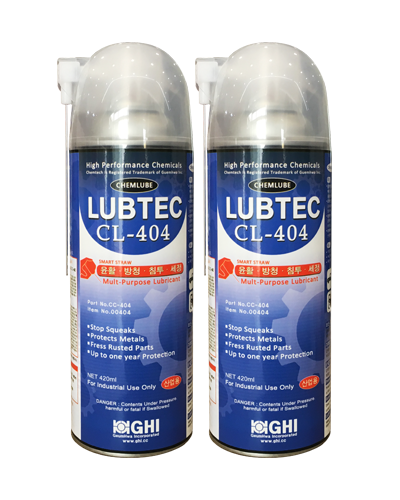 Feature

CL-404 breaks down the rust with rapid penetration and provides excellent lubrication to smooth operation. It dissolves the rusted parts to make it easier to loosen the adhered parts. It quickly cleans and penetrates to eliminate noise and smooth operation.

Uses

Lubrication of moving parts of various devices such as automobiles, motorcycles, bicycles. Maintenance and repair of wheel axles, hinges, tools, firearms, golf equipment, mountaineering, fishing equipment.
Used for smooth operation and extended life of flow devices such as typewriters, copiers and office supplies.

Packing

420㎖ Aerosol×20ea/Box, 4ℓ, 20ℓ/ Steel Can
SUPER LONG 3 CL-419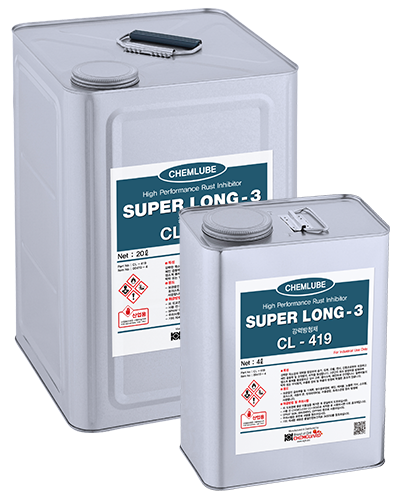 Feature

CL-419 forms a strong wax coating to protect against moisture, sand, dirt, dust and vibration, prevent chain lubrication and sticking, and form a coating. Outdoor rust protection is two years and rubber, plastic and paint are safe because there is no chlorine solvent. It has an excellent effect on the rust of exporting equipment and parts, preventing the peeling or corrosion of aluminum.

Uses

Used for rusting of metal parts and machinery in storage, salt spray equipment, chains, cables, exposed gears, springs, hoists, car doors, battery terminals, export molds.

Packing

420㎖ Aerosol×20ea/Box, 4ℓ, 20ℓ/Steel Can
Liquid MoS2 Spray CL-420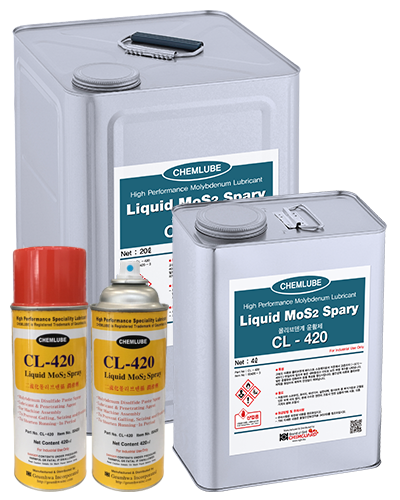 Feature

CL-420 is a high concentration secondary molybdenum paste spray. It does not deteriorate *form* low temperature to high temperature (-30 ℃ ~ 400 ℃) and shows high "load-bearing neutrality" and extremely low friction coefficient. It is friendly to general lubricant and improves lubrication properties. The non-inflammable secondary molybdenum film is formed, and chemical stability is excellent.

Uses

Breakdown of car splines, clutches, mission gears, cylinder walls, camshafts, etc. Attachment due to high heat, prevention of abrasion. Used for assembly of disassembled and repaired. Used to disassemble and assemble various machines.

Packing

420㎖ Aerosol×20ea/Box, 4ℓ, 20ℓ/ Steel Can
SILI-LUBE CL-430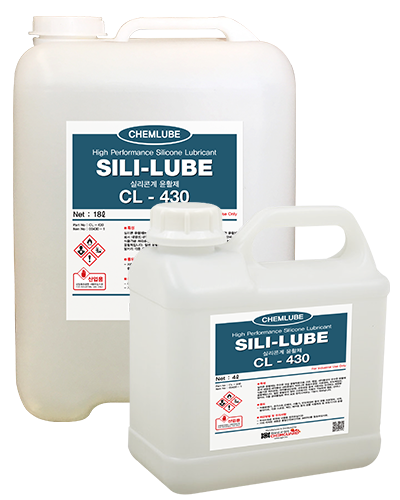 Feature

CL-430 is a lubricant with high temperature, cleanliness and chemical resistance due to excellent extreme pressure lubrication. It is a safe and clean lubricant used in food processing plants, drinking water factories, pharmaceutical factories, medical equipment, semiconductor equipment and packing plants because of its excellent heat resistance, chemical resistance and "load-bearing neutrality". Unlike ordinary lubricating oil, it can be used at high temperatures and has excellent functions to protect and maintain *form*various pollutants such as salt, acid and alkali.

Uses

Lubrication of vending machines, hoists, conveyors, injection machines, semiconductor equipment, etc. Lubrication of medical equipment, watches, slides, various springs, chains, bearings and other lubricating food manufacturing and packaging machinery.

Packing

420㎖ Arosol 20ea/Box, 4ℓ, 18ℓ pe Can
LIQUID SPRAY GREASE CL-440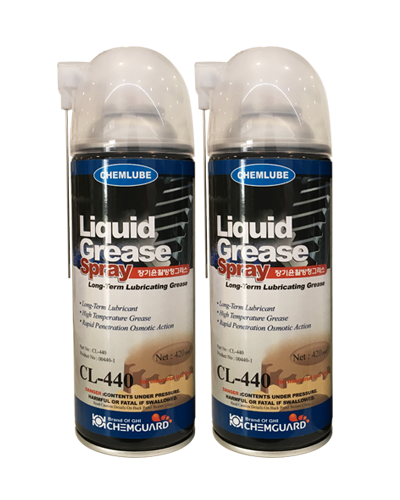 Feature

CL-440 is a high-viscosity lubricant that has excellent adhesion and does not flow Due to its excellent adhesion and transparency, it is clean. Special long-term high temperature grease, which is the main material of synthetic grease, can be used good temperature and long-term lubrication is required.

Uses

Areas lubrication, rust prevention and lubrication are required for bicycles, automobiles, air tools Maintenance of equipment, maintenance of aircraft, military weapons, automobiles, elevators, hoists, air tools, electrical equipment, Suitable for places grease is difficult to use

Packing

420㎖ Aerosol Type 20ea/Box, 20ℓ/Steel can
CABLE GREASE LUBRICANT CL-450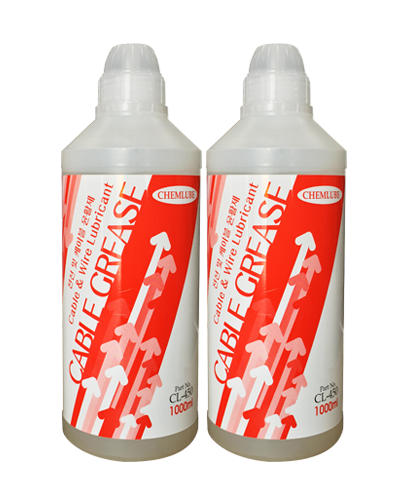 Feature

CL-450 is a lubricant with excellent performance and characteristics for optical communication industry and general construction
It is non-flammable in water type, does no affect wire shrinkage and is compatible with all kinds of cable coatings.
It is easy to use as gel type and can be easily removed after use.
It is environment-friendly product harmless to workers and environment when used.

Uses

For lubrication of all kinds of cables, wires and wires

Packing

1000㎖ pe can 12ea/Box, 20ℓ/Steel can
AIR TOLL OIL CL-454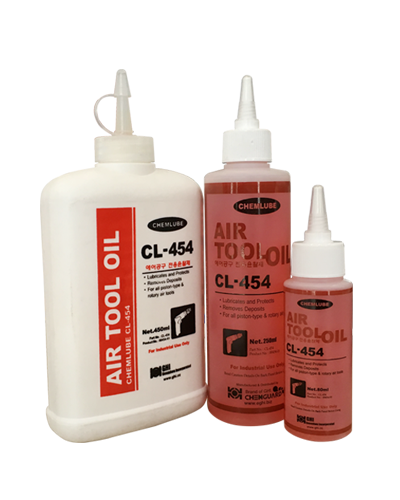 Summary

CL-454 is a highly refined base oil highly waterproof and highly refined in microcrystalline wax (commonly called micro wax) and lubricant for air tools protection. It forms a thin and effective rustproof film on the surface and has excellent and long lasting lubrication effect. It is also excellent for moisture prevention in winter season.

Feature

- Extends tool life and prevents damage to parts.
- Continuous lubrication provides excellent effects even during use or storage.
- Protects rust by forming a thin and highly effective rustproof film on the surface of tool parts.
- Improves work efficiency and power by reducing noise and smoothing the operation of the tool.
- Excellent antiperspirant agent is also excellent in preventing the use of moisture and winter season.

Uses

Lubrication, rust prevention and moisture-proof protection of various air tools.

Packing

80㎖x30ea Box, 250㎖x20ea Box, 450㎖x10ea Box

URETHANE COATING CK-600 C & R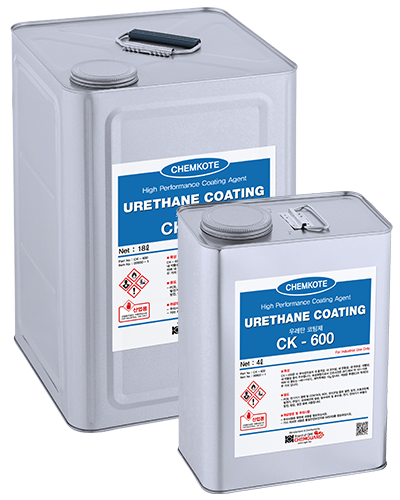 Feature

CK-600 is non-corrosive and has excellent impact resistance, abrasion resistance, vibration resistance, arc resistance, heat resistance and chemical resistance. It is fast curing type. Drying time is about 10 ~ 15 minutes at 20℃. Heat resistance is -45~150 ℃ and film thickness is 15㎛.

Uses

Insulation and dustproof of Electrical equipment gloss, control box, motor coil, PCB. Moisture-proof, water-repell ent and maintenance of protective coatings, generators, transfo- rmers, motor wiring. Dustproof, moisture-proof, insulation of electrical and electronic parts

Packing

420㎖ Aerosol×20ea/Box, 4ℓ,18ℓ/Steel Can
PROCOAT CK-630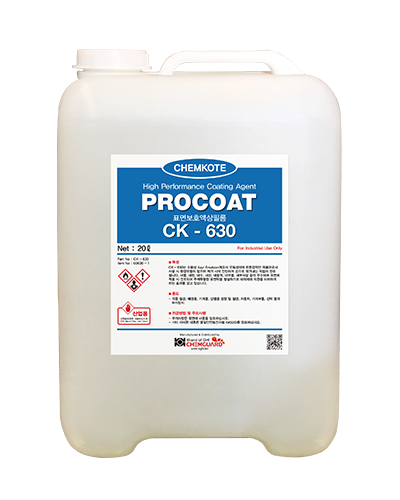 Feature

CK-630 is a non-toxic and environmentally friendly water soluble acrylic emulsion system. There is no environmen- tal pollution when using this product. You can simply peel it off by hand when removing it. It has excellent in heat resistance, cold resistance, domestic water, acid resistance, impact resistance, dirt and corrosion resistance. Therefore, when applied to the surface, it forms a colorless transparent surface film that is dried and the appearance of the adherend is improved.

Uses

Corrosion prevention of various steel, piping, machine, heat-insulating steel plate, automobile, machine parts, and ship.

Packing

20kg pe Can
EASY COAT 316L CK-650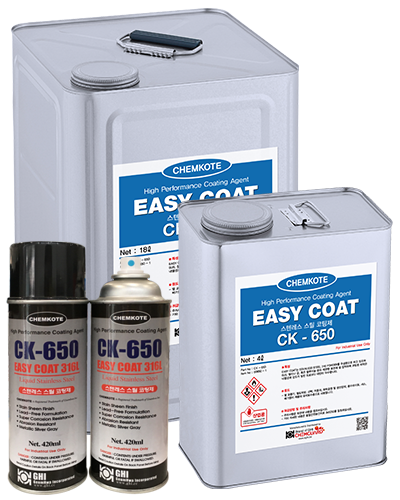 Feature

CK-650 is based on Stainless Steel 316 Powder. It attaches well to clean surfaces such as SUS, iron, steel or aluminum. Coated films have better heat resistance and strength than ordinary paints.

Uses

Used for the maintenance of heat exchangers, railway vehicles, ships, automobiles, chemical process and production equipment, exhaust systems, water pipes, "Sus products".

Packing

400㎖ Aerosol×12, 20ea/Box, 4ℓ,18ℓ/ Steel Can
Easy Coat Bright CK-651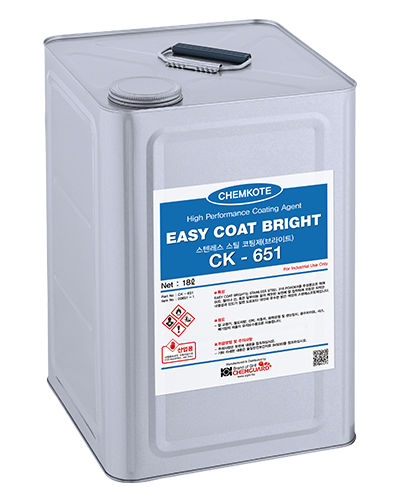 Feature

CK-651 is based on Stainless Steel 316 Powder. It attaches well to clean surfaces such as SUS, iron, steel or aluminum. Coated films, a brightly colored stainless steel coating, are superior to conventional coatings in heat resistance and strength.

Uses

Used for the maintenance of heat exchangers, rail- way vehicles, ships, automobiles, chemical process and production equipment, exhaust systems, water pipes, "Sus products".

Packing

420㎖ Aerosol× 20ea/Box, 18ℓ/Steel Can
METAL GUARD CK-656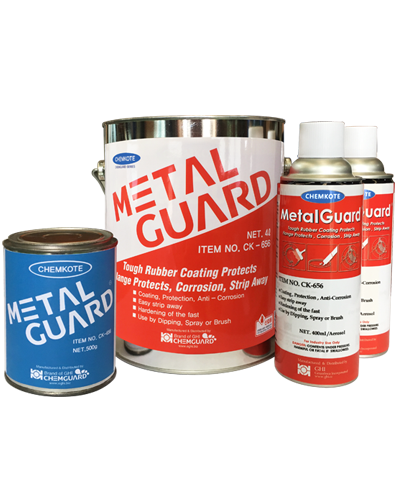 Feature

It has excellent initial adhesion and relative strength, so it can be applied to metal, plastic, concrete, stone, rubber and wood surface. Anyone can remove it quickly and conveniently.
This coating is excellent in water resistance, weather resistance, chemical resistance and rust prevention. Leave it for a long time after application, and when removed if necessary, provides the original surface.
Maintains its original state even at temperatures up to 30~60℃.
The product does not cracks and has excellent weather resistance against temperature changes.
It is convenient to use with various application methods. (Dipping, Spray, Brushing etc.)
Excellent adhesion to porous materials.

Use

Color classification of tools, valves, etc.
Reducing noise & Restoring worn objects
Isolation of tools and electrical connecting parts.
General housewares, automobiles, electric/electronic, industrial products, and other products requiring surface protection.
For strip away after surface protection of metal, plastic, glass, glass fiber, stone, rubber, wood etc.
It can be applied to various parts such as rust and corrosion prevention.

Packing

500gr/1Gallon Steel can (Packing according to customer's request is also possible)
400㎖ 25can/Box



Certificate of Korea

No.10-1901624
SILVER COAT CK-660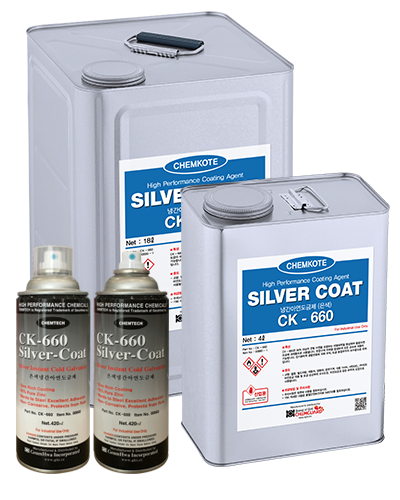 Feature

CK-660 has the characteristic of producing a heat resistant film containing more than 90% zinc and is used as an alternative to hot dip galvanizing. Semi-permanent film is formed and can be applied to all metals. Suitable for corrosion of electrochemical fusion reaction and maintenance of coated weld parts.

Uses

Alternative products of hot dip galvanizing of Bridges, iron bars, railway cars, automobiles, freezer trucks, conveying machines, various tanks, vessels, pipes. It is used for finish painting such as repair painting and galvanizing of plating damage parts.

Packing

420㎖ Aerosol×20ea/Box, 4ℓ, 18ℓ/Steel Can
Hammertone Coat CK-666 Hammertone Paint Spray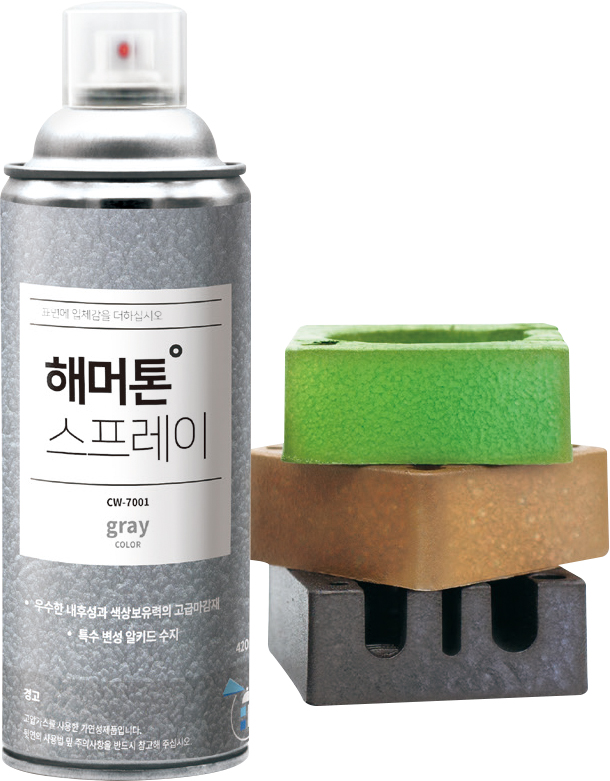 Feature

?It is a paint with a pattern that looks like it was knocked on the metal surface with a hammer.
?It is made of aerosol type for easy use anywhere easily.
?It not only makes the surface of the film beautiful but also has excellent weather resistance and excellent color retention, and is mainly used for high-grade finishes.
?Special modified Alkyd Resin is the main component, and it has excellent adhesion, durability and hiding power.

Method of Use

? Steel furniture, machinery, light metal products, safes, cabinets, etc.
? Painting finish for under-painted wood
? Various interior and decoration

Precautions

?The surface temperature should be at least 3℃ above the dew point to prevent water
condensation.
?Avoid work on rainy days, high humidity (85% or more), low temperature (5℃ or less). (Cracking of coating film, poor adhesion may occur.)
?When repairing the surface of the old film, please check the conformity.
?Please note that if the paint is thick, the pattern may become faint and the three
-dimensional effect may not occur.
?If applied to nonferrous metals, there may be differences in adhesive strength depending on
the material and pattern. Please use after applying CK-666.

How to Use

? If rust has already occurred, remove foreign matter from the paint surface using an iron
brush or an electric machine.
? Shake the container thoroughly until the bead of the container is free to move.
? Spray 20 to 30cm away from the surface. After the first coating, if necessary, apply the
second coating after full curing.
? Spray in a place where it is not affected by wind.

Packing unit & Color

?Packing: 420ml Aerosol Can, 20EA/Box can
?Color: Blue, Black, Green, Brown, Silve
Liquid Aluminum Spray CK-670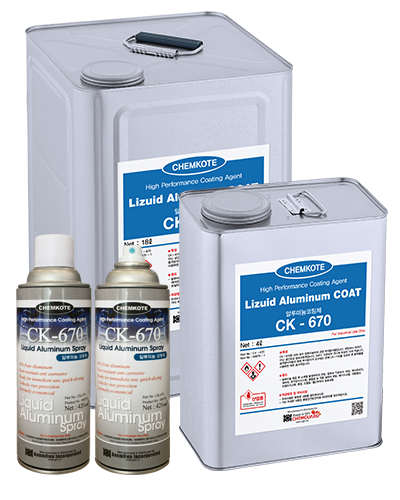 Feature

CK-670 is 50% pure aluminum and resistant to high temperature corrosion. It is a cold metal coating rather than paint or lacquer. It is resistant to high temperature over 500℃ and is extremely low in toxicity. It is very effective to use this product after applying CK-700 to parts that need cathodic protection and corrosion prevention.

Uses

Coating of scaled areas after aluminum welding. Aluminum processing and repair, air conditioning, ventilation system, hot blast store, and coating of various facilities. Protective coatings for turbines, pipelines, exhaust systems, various tanks, boiler systems, welding, drilling and cutting areas.

Packing

420㎖ Aerosol×20ea/Box, 4ℓ, 18ℓ/Steel Can
BLACK COAT SPRAY CK-690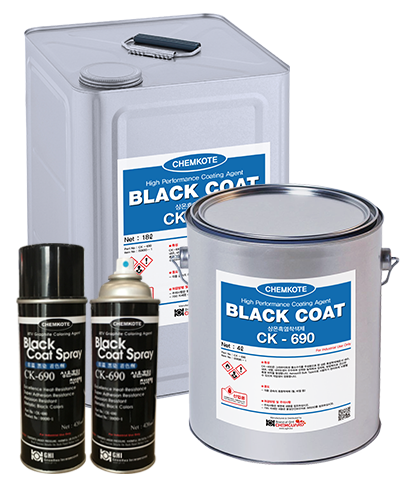 Feature

CK-690 is a black colored product containing graphite and fluorine resin as main components at room temperature. It has excellent water resistance, oil resistance, heat resistance and abrasion resistance, and forms black monochromatic film with strong adhesion and corrosion resistance. Aerosol and bulk types make it easy for users to use and work well.

Uses

Black coloring products of various metals (iron, non-iron, etc.)

Packing

420㎖ Aerosol×20ea/Box, 4ℓ, 18ℓ/Steel Can
ZINC COAT CK-700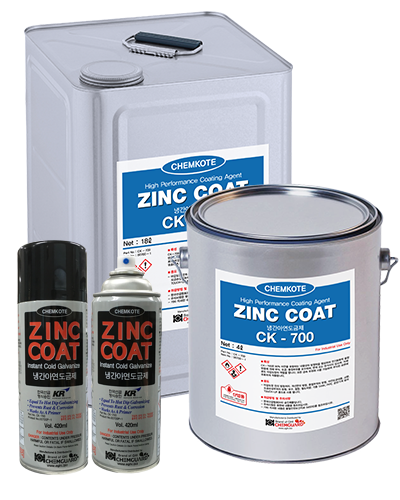 Feature

CK-700 forms a heat-resistant rust preventive film containing 90% zinc and repair corrosion, plating and welding parts by electrochemical fusion reaction. It does not discolor or peel, it also acts as a finishing coat. It can be used on all metal parts and works well on corroded surfaces.

Uses

Anti-rusting treatment before finish painting.
Anti-rusting of the improved surfaces.
Anti-rusting of welded parts.
Prevention and maintenance of plating damage.
Used for touch-up of zinc plating substitute, bridge, iron window, railway car, various tank, pipe, conveying machine.

Packing

420㎖ Aerosol×20ea/Box, 4ℓ, 18ℓ/Steel Can

PERFECT FOAM CT-800 URETHANE FOAM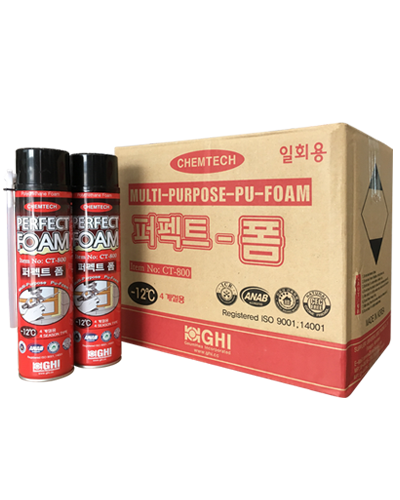 Feature

The perfect foam CT-800 is a one-part polyurethane foam that is sprayed into the cans and hardened by air humidity. It has foaming power and adhesive strength.

Use

Fills gaps and empty spaces such as door, window and all kinds of plumbing.

How to use

- Remove substances (water, oil, dust) on a surface before using
- Shake a can up and down before using
- Attach a spray straw or gun to the cans valve
- Since foam expends when it is used, Spray foam about 40%,
After using, wash the spray straw or gun with FoamCleaner (CC-300)
- After using, foam hardens after more than 2 hours, and it is completely cured after 24 hours
- After it is completely cured, make the surface neatly using a knife, saw, etc, Next, finish
the work through painting and coating..

Cautions

- A possible temperature for using foam: above 5℃
- Hardening time of surface: 10~15 min.
- A possible cutting time: 40~60 min.
- House of being completely cured: 24 hours
- Volume of forming: 30~40L

Storage

Avoid direct sunlight, Store in a dry area with 40℃

Packing

There are two types: normal type and gun type. 750㎖x15ea Box
NON-SPATTER CT-840 Series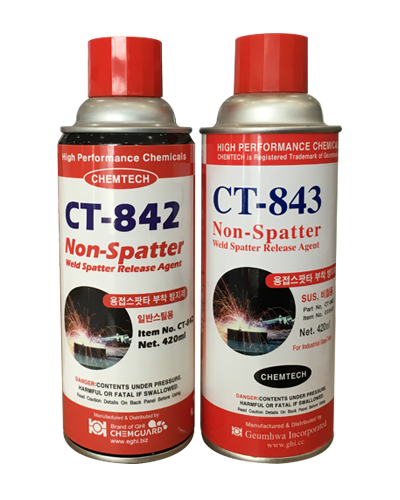 Feature

CT-840 series is a spot welding protection product. It is classified as water-based or oil-based type, considering the convenience of the user, and it is harmful to the human body and low toxicity. It does not interfere with post-treatment(painting, metallizing, etc.) and does not contain any affecting metal components. Therefore, it is an excellent product that does not affect the hardness, impact and bending as well as the welding.

Uses

Prevent adhesion of welding spatter

Packing

Packing method for each product by use. (Please contact)
ALOXIDE CT-850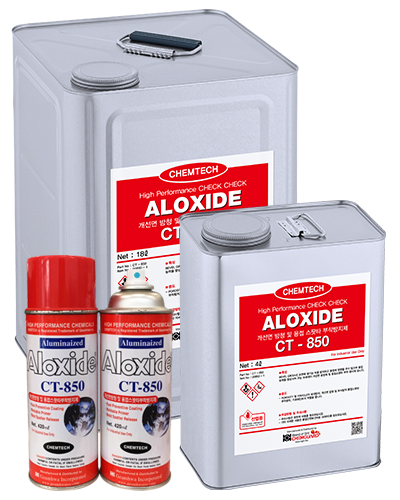 Feature

CT-850 is a product of preventing adhesion welding spatter that prevents rust on the Bevel Groove surface and improves weldability.

Uses

Maximum prevention of Porosity and Pinhole.
Prevention of rust prevention and corrosion prevention.
Prevention of spot welding adhesion. Use for Foundation Paint etc.

Packing

420㎖ Aerosol×20ea/Box, 4ℓ, 18ℓ/ Steel Can

Register

No. 41968
NON-SLAG CT-851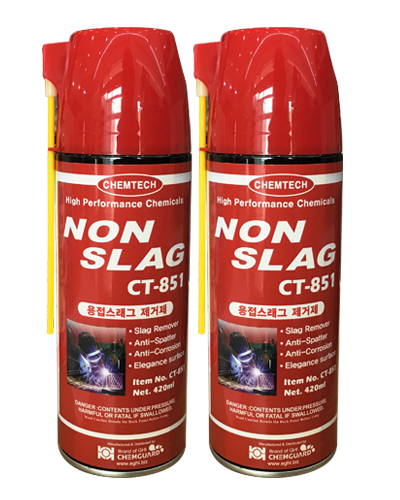 Feature

CT-851 is a product that can easily remove slag generated during CO2 welding. It improves work efficiency with excellent penetration and releasability without affecting welding. Non-corrosive and metal safe. There is no bubbling when welding more than 2 layers.

Uses

Used for Manual welding, semi-automatic welding, automatic welding.

Packing

420㎖ Aerosol×20ea/Box, 4ℓ, 18ℓ/Steel Can

Register

No. 419688
TORCH CLENER SPRAY CT-856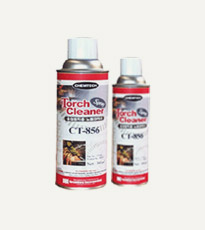 Feature

CT-856 is applicable to manual, semiautoma- tic and automatic welders. It attaches to Nozzle and Torch to Spatter, Carbon, and impurity which occur when welding and cutting, and it prolongs weld defect or torch life. It also provides a satisfactory welding effect to the base material with stable gas supply at the time of welding.

Use

Welding Spatter prevention and cleaner for torch.

Packing

360㎖ Aerosoll×24ea/Box, 18ℓ/Steel Can
Red & Blue Paste CT-860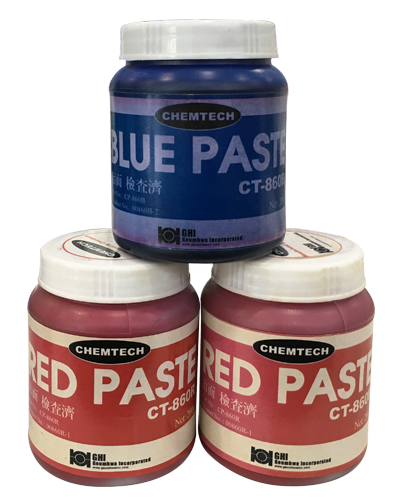 Feature

CT-860 is an inspection tool for bonding surfaces that can be used as a pollutant-free in the gear tooth surface and flat work. Unlike Red Lead which is plumbum compound, it is safe for users by using vegetable oil. It is formed as an intense and uniform thin film and can be inspected accurately, unlike the original red lead.

Uses

Used for Gear teeth, machine tool, bed, large valve inspection, and other various wet surface inspection.

Packing

200g Pe Can×30ea/Box, 4kg, 15kg/Steel Can
BELT GRIPPING CT-865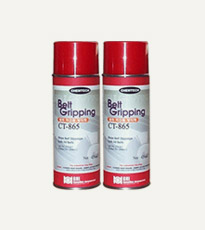 Feature

CT-865 is by increasing the coefficient of friction, the CT-865 can prevent materials such as V-belts, flat belts and rubber *form* being idled. It enhances adhesion by not attracting dust or impurity. It distributes the force evenly, preventing belt noise and extending its service life.

Uses

Used for Conveyor, various industrial belts, agricultural machinery, automobile, water equipment etc.

Packing

420㎖ Aerosol×20ea/Box, 1 GL/Steel Can
GAS TESTER CT-870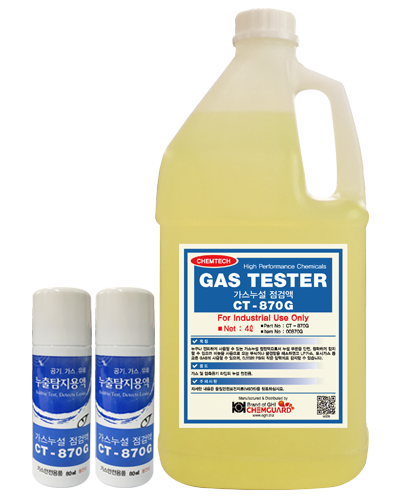 Feature

CT-870 is an easy-to-use gas leak checker that can accurately detect the safety of the leak. It relieves corrosion and inconvenience caused by the use of soap water. It can be used for all gases, such as LPG and LNG, and can be detected even at a small pressure of 0.0029 psi.

Uses

Used for checking leakage of gas and compressed air lines.

Packing

80ml Aerosol × 50e / Box, 4ℓ × 4EA / Box, 18ℓ / pe Can (according to customer's request
STICKER REMOVER CT-888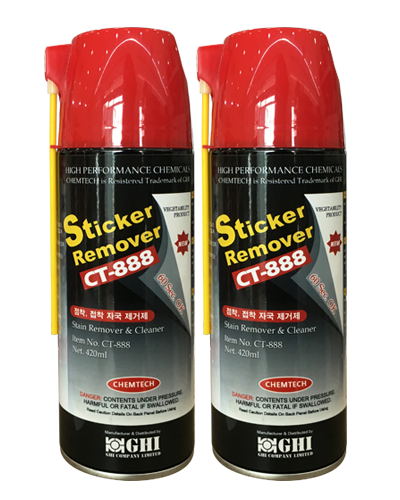 Feature

CT-888 is a water-soluble product made as a raw material for fruits and vegetables. Using lemon extract as the main material, it has less pollution, has no irritation, and has excellent decomposition and washing power. As a cleaner, it removes adhesion and scratches of adhesive, tar, grease, automobile tinting and various sheets. It can also be used safely with materials such as plastic, acrylic, rubber, glass, metal and wood. Quick, easy, clean and remove various substances.

Uses

Used to remove marks and stains on various stickers and adhesives.

Packing

420㎖ Aerosol×20ea/Box
Paint & Gasket Remover Spray CT-889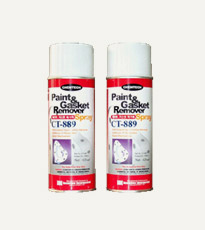 Feature

CT-889 is an aerosol type product that removes paints and gaskets quickly and efficiently. Excellent permeability to prevent flow, low toxicity and easy to use.

Uses

Removal of paint and gaskets. Removal of paint on brick, ceramic tile, glass, concrete, metal, stone, wood, etc.

Packing

420㎖ Aerosol×40ea/Box
Excellent Lacquer Spray ELS-890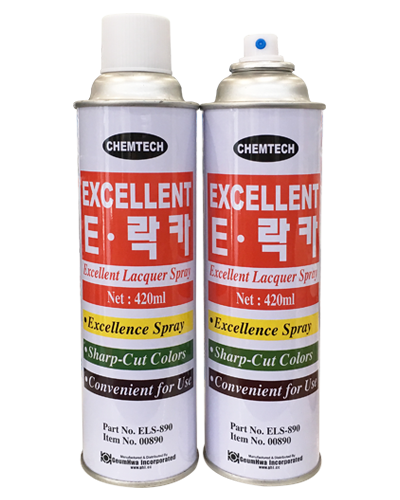 Feature

It is a naturally dry type lacquer. It uses the finest paint with excellent weather resistance and is quick drying, excellent gloss, excellent workability, adhesion, durability and hiding power. The thickness of the coating formed at the time of one injection is high and there is no flowability and evenly sprayed.

Uses

Wood, steel, other repairing

Color

Black, red, silver, yellow, blue, dark blue, gray, green, orange and various colors

Packing

420㎖ Aerosol×40ea/Box
PURGE TAPE & PAPER CT-900, 901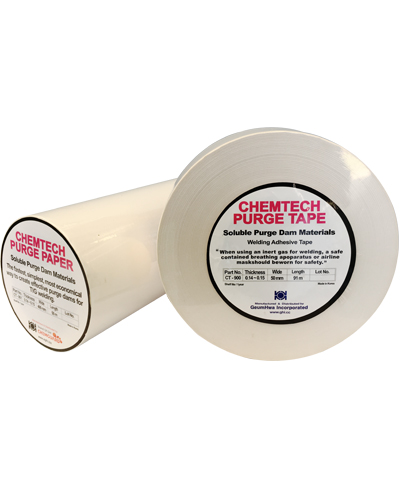 Feature

The CT-900, 901 is used as a gas purging dam when welding pipes and is a welding material that can be flushed with water without removing the dam after welding. It saves you time and money in a way better than when you used TIG welding paper or thick paper sponges in the past. Also, because it melts well in water, you can easily rinse with water after welding.

Uses

used for nuclear and fossil fuel plants, breweries, processing and chemical plants, offshore drilling rigs, tankers, pipelines, pulp mills, and similar applications.

Packing

CT-900(TAPE)/ 25㎜, 50㎜(Wide)* 91MR/Roll
CT-901(PAPER)/ 800㎜, 400㎜, 200㎜(Wide)* 50MR/Roll
(You can also make specifications by the customer.)